BREAKING: 3-star SG LaGerald Vick commits to SMU, reclassifies to 2016 FREE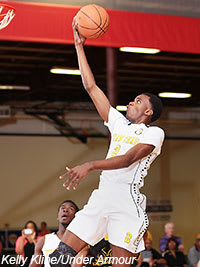 Douglass (Memphis) shooting guard
LaGerald Vick
has committed to
SMU
on Wednesday, becoming the Mustangs' third commit in as many weeks.
Vick was originally part of the 2015 class but will reclassify to 2016. He is the first member of the Mustangs' 2016 class and will join SMU in the 2016-17 season.
SMU coaches Larry Brown and Ulric Maligi had flown out to Memphis multiple times this fall to watch Vick in action at open gym at Douglass. Vick wound up taking an official visit to SMU and he spoke with Brown about his potential.
"He thinks that I could be one of the best guards he has ever coached. It makes me think I need to take this opportunity and make the best of it," Vick said.
Norton Hurd, Vick's coach on the AAU club Team Thad, spoke with Rivals about the conversations he had with Brown about the 6-foot-5, 175-pound guard.
"Coach Brown is really excited about him and thinks he's potentially one of the best kids he has ever recruited," Hurd said. "Coach Brown sees the big picture with him and it doesn't get better than a coach like that having that belief."
Hurd says Brown is a continuation of good coaches that Vick has had throughout his career thus far.
"I think he's in a good situation coming from a great high school coach and a very good AAU program going straight to Larry Brown. It doesn't get any better than that when it comes to teaching."
Rivals' national basketball analyst Eric Bossi spoke with The HillTopics about Vick's potential.
"As it stood, Vick is a kid who was going to be making a major play for the class of 2015 Rivals150 but now that he is in 2016 he will enter at No. 134," Bossi said. "Chances are that initial ranking is a conservative one. Vick is a good shooter with bouncy athleticism and lots of length. He is quick to the rim, has a nose for scoring and should benefit from being able to bulk up during (an extra) year of prep school."
Vick also took an official visit to Georgia Tech before committing to SMU. He had other offers from Memphis, Mississippi, Tennessee and Western Kentucky.
Click
Here
to view this Link.