SMU cruises to a 45-21 win over Temple
The SMU Mustangs football team dominated on offense and defense en route to a big American Athletic Conference victory over the Temple Owls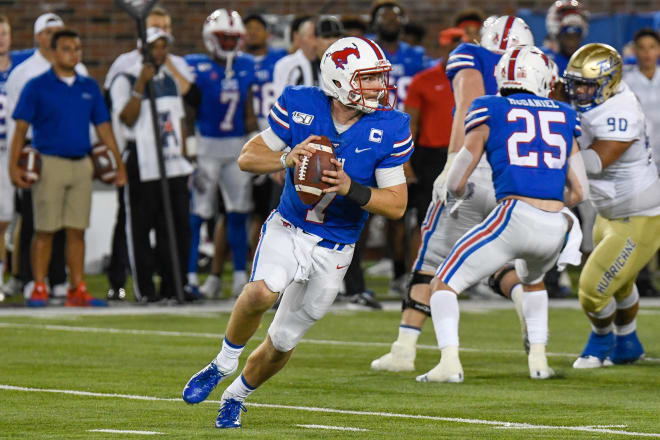 UNIVERSITY PARK, Texas -- Temple will see Shane Buechele, Reggie Roberson Jr. and the rest of that SMU offense in its dreams.
Make that nightmares.
The duo put on an offensive clinic that will make for a bad film day in the Temple locker room. The combination of Buechele and Roberson, coupled with a strong defensive effort, led No. 19 SMU to a 45-21 victory over Temple in front of 23,132 at Gerald J. Ford Stadium.
With the win, SMU remained undefeated and earned another American Athletic Conference victory by showing a national-television audience what it's capable of. Temple entered as a worthy opponent, as it was ranked No. 2 in the AAC in total defense and points allowed.
But SMU (7-0, 3-0 in AAC) showed why it is nationally ranked as one of the best offensive teams in all of FBS football. And much of that came from Buechele and Roberson. Buechele finished the game with 457 yards and six touchdowns -- both career highs. He connected with Roberson eight times for 250 yards and three touchdowns.
It was an impressing outing by an SMU team that clicked on all cylinders. Because of the offense's play -- an offense that finished with 655 total yards -- few will forget to recognize what SMU's defense did. Temple was held to 273 total yards and forced to punt eight times.
SMU jumped on the board early with a 33-yard touchdown pass from Buechele to Roberson with 11:21 in the first. The play capped an 11-play, 77-yard drive that lasted more than 3 1/2 minutes. SMU scored again with 7:15 in the second quarter, as Buechele connected with a wide-open Roberson, who finished the play with a 75-yard catch-and-run.
The third touchdown between the two happened with 11:54 in the fourth. Buechele found a streaking Roberson for a 60-yard play.
Buechele also added touchdown passes to James Proche (10 yards), Kylen Granson (10) and Xavier Jones (5) during the game. He completed 30 of 53 passes and left with roughly five minutes remaining in the game. Jones finished with 105 rushing yards on 29 carries.
Proche had nine catches for 80 yards and his touchdown. Eight different players caught a pass for the Mustangs. SMU now will prepare for a short week, as they travel to Houston for a Thursday-night matchup.